Software Testing Future Scope – A Complete Overview
If you are tech-savvy, diving into the world of software testing is the most glamorous career option you could ask for! Because software testing is to be predicted as a safe and ever-growing industry to plant your career sapling. However, when we choose a career path, the first thing that comes to mind is the software testing future scope.
So, are you still determining whether software testing is a good career in 2023? Then, don't forget to keep reading.
Software Testing as a Career – Future Scope
Software bugs can be costly or risky. One has to ensure that the software system is free of defects. The software industry is aware of this risk. Therefore, they are giving software testers more prominence than they used to. As a result, the career is booming now.
The field of software testing has experienced tremendous growth. Software testing is a way of confirming that a software platform or product performs as intended. Testing has advantages, such as bug prevention, lower development costs, and better performance.
Depending on experience, companies offer reasonable packages to software testers. So, let's dive deeper into the future scope of software testing!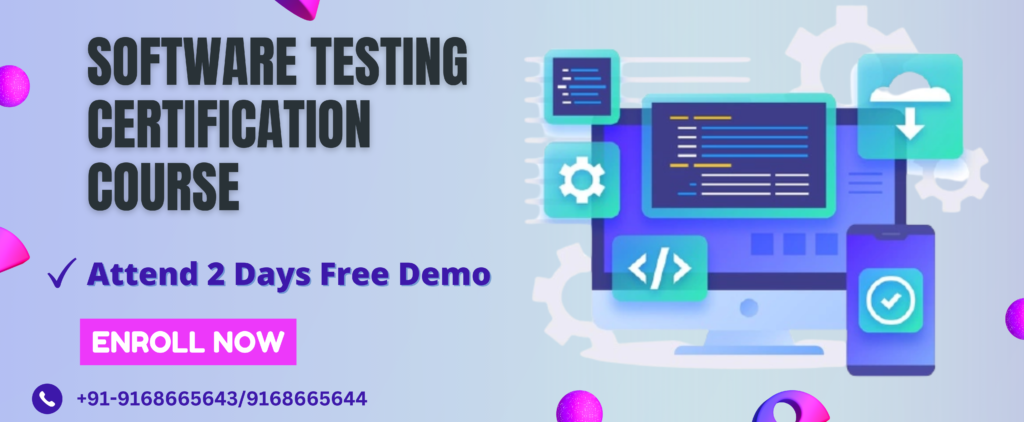 ---
Skills required to take a plunge in Software Testing
If you genuinely wish to turn this into your lucrative career, consider brushing the following skills –
Non-technical skills
1. Analytical skills
breaking down complex software environments into simpler units for the team to understand the setting is something you should be capable of. And it will come only by strengthening analytical skills.
2. Strict time management
whichever field you choose to make your career in, time management has to be on your list. There will be a time when they'll be a timely release of the code, managing workload, etc. It would be best if you were efficient enough to handle all these tasks with finesse.
3. Strong communication skills
for a software tester to excel, they must have good verbal and written communication skills. Whatever they wish to convey should be crisp and clear; it could be test cases, strategies, bug reports, etc. everything should be easy to decode for the team members.
Besides, while working in a team, you can't be blunt. Instead, software tester should maintain their coolness in all circumstances.
Technical skills
1. Basic know-how about the database
usually, the software system's data is expansive, and there are instances when this data needs to be validated. Besides, several types of databases are used by companies like MySQL or Oracle. Therefore, the candidate must know about simple/complex SQL queries to check the data storage.
2. Basic know-how about Linux commands
several applications continue to be deployed on Linux machines. Therefore, the testers should have knowledge about Linux commands, which will further ease your task.
3. Knowledge about various testing tools
Test management is crucial in managing the testing process. So, it is imperative for a tester to know about it. There are multiple tools like PractiTest, Tuskr, etc. Get knowledge about them because knowledge never goes waste.
---
Salary of Software Tester
Times have changed, and so have the market, which is why the remuneration varies from company to company. However, the average base salary of a software tester in India is ₹343,922 per year.
Besides, in the United States, the average paycheck of a Software QA Tester is $73,090, but it may fall between $65,365 and $80,330.
---
Career opportunities in Software Testing
Once you decide to take up Software Testing as a career, you may go through a hierarchy of expertise and play different roles as per your experience –
As a fresher, you can join as a QA Analyst
Once you gain experience of 2-3 years, you may get promoted to Sr. QA Analyst
Furthermore, after gaining an expansive experience of 5-6 years, you may win acknowledgement as a QA Team Coordinator
Lastly, with 8-11 years of experience, you'll be promoted to Test Manager, and with 14+ years of experience, you may become a Senior Test Manager (14+ experience)
---
Daily Tasks to be performed by a Software Tester
We have already mentioned the hierarchy and the career opportunities that lie ahead. Professionally trained and certified software testers are highly demanded. One can either join an internal software testing department at a company or an independent software testing company. But it's great to know what the responsibilities are going to be.
Therefore, below we are listing some key roles and responsibilities performed by a Software Tester:
You can dream of working as QA Lead or QA Manager
Reviewing the requirement and making test scenarios
Perform Test Executions
Analyzing Test outcomes on their impacts, errors or bugs, and usability
Generating Reports and presenting them to the design team
Work on a project along with Software Developers and run and Support Team
Keep track of software and application systems
---
Pros and Cons of carving a career in Software Testing
Pros
A career in software testing is extremely rewarding & you have a chance to climb the success ladder by gaining rich experience.
It is a highly in-demand job with many vacancies in the market.
As the demand increases, your job and career will stay secure.
Cons
This job means tedious working hours, and so there are chances of leading a monotonous working life.
Without basic knowledge, technical know-how, and passion, one cannot excel in this field. So, it would be best if you were on your toes to succeed in this career.
Now, if you have a question about whether software testing is a good career in 2023, then we have you covered with this comprehensive guide. But before kickstarting this golden career, you need training, and that's when Cyber Success comes into the picture.
Cyber Success, Software Testing Certification Course in Pune
Now, you know what lies ahead when you choose to take up Software Testing as a career. You know what pool of opportunities lies ahead. And to take that first baby step – comes "Cyber Success." So, make the beginning of your journey with the best Software Testing Institute in Pune!
Cyber Success is a platform that provides end-to-end support at every phase of your journey of becoming a "Software tester." Our training starts from scratch and ends with a significant project that helps in portfolio development.
We pledge the course that focuses on connecting agile software development approaches with testing processes. Besides, we provide 100% placement assistance, hands-on training from industry experts, and preparation for global certification. To join us, contact us at (+91) 9168665643, (+91) 9168665644, or drop an email at hello@cybersuccess.biz